I've always been intrigued by artistic designs, especially more gothic styles. There's just something about the edgy designs that appeals to me.
Tattoos are another one - now, I'm pretty much against those garish, obscene ones, but small, arty tattoos I will always envy. I don't think I would ever have the guts to go ahead an ink my skin (or, you know, have someone do it for me), but I've always wanted to have something petite and pretty - perhaps *ahem* an arrow - behind my ear.
I saw a really, uber-attractive guy out shopping, with tattoos like this and I was like *swooon*
Arrows can mean a lot of things, but I mostly take it for strong sense of direction, almost like a moral compass. Forever moving toward a goal.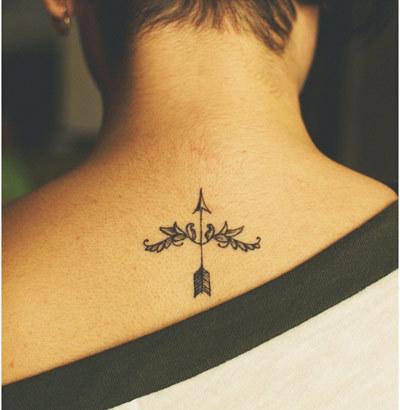 Being a Sagittarius, the symbology of arrows has always been around me, and I've always been secretly very smug of the fact that my star-sign definitely looks the best - and its so easy to adapt it to yourself. Pretty, petite, feminine ones or masculine, powerful looking ones - whatever takes your fancy.
Obviously, I had to get the centaur in here! #SagittariusCentaur