Happy New Year! Hope 2014 has been off to a great start for you all and you've been sticking to your New Year's resolutions. There's just something about this year that makes me feel really optimistic. It's gonna be a good one!
Anyway, as we all know, I'm a bit of a shopaholic - and the January sales aren't doing me any favours! Everytime I walk past a beautifully laid-out shop window, I just get dragged in and end up spending hours trawling through the sale section for any fantastic buys.
I'm not as fashion forward as some of my favourite bloggers, and I definitely can't afford anything in Topshop unless it's about 90% off. Topshop, if you're reading this, that would be a totally great belated Crimbo/birthday present!!
Anyway, I saw this gorgeous jumper in Matalan (back when it was £25 and now its £12.50!! eeek!) I tried it on and absolutely fell in love with it, so naturally it's earned a place on my wishlist!
The cute little fake-statement-necklace really brightens up the whole jumper, bringing it from a winter staple, to a go-to piece, that I would throw on if I was just going out shopping with friends, or even on a night out, with skinny leather trousers and cute ankle booties!
Next up, this straight neck-line cami from Topshop (of course!)It's gorgeous and so simple, but I'd definitely keep it for the milder spring/summer weather.
I might even team it (hypothetically) with this adorable white midi skirt. I don't know what it is about them, but ever since I saw this gorgeous blue one (in Topshop). I'm not really a skirt girl, but if I was, this would be the perfect one for me. It just exudes that vintage elegance that seems to elude the mini/bandage skirt scene.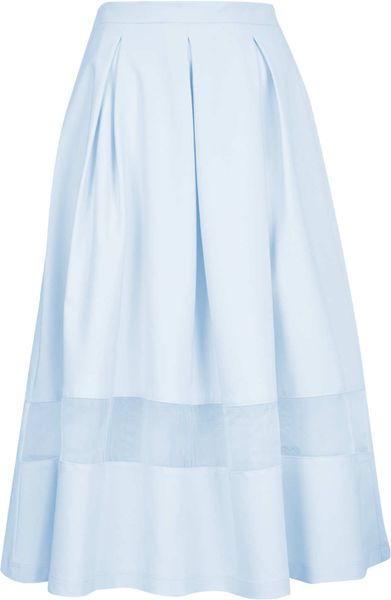 Now for my favourite trend - the boxy-androgynous look. I apologise fashionistas if that's not the correct terminology but, hey, I call it how I see it.
This quirky and slightly masculine silk bamboo shirt really appeals to me. I love the fact that the sleeves, while short, graze your elbows, and the boxy style (if worn with pizzazz) can actually look really great on girls. I've always shied away from anything that looked remotely masculine, prefering tighter, feminine clothes, but I've recently discovered just how great this style can look, and I've got to say I'm loving it.
And I just lovelovelove this cute pastel-pink-satin-y look!!
What are your January must-haves? Let me know below!
xx Annie
Adorable White Jumper; Matalan
Sexy Leather Trousers; River Island
Bad-ass Ankle Boots; New Look
Glacier Toe-Cap Boots; Topshop
Printed Cami; Topshop
Elegant Midi Skirts (all(; Topshop
Macho-Feminine Silk Bamboo Shirt; Topshop
Pink-Pastels Collage (all); River Island